sp z o.o. (Ltd.), ul. Zakopianska 1, PL-64-920 PILA, POLAND
Tel: +48-67-21 000 89; Fax: +48-67-21 000 89
Internet adress: pila.interlok.info
Email-adress: pila@interlok.info ; interlok@op.pl
YOU LOVE STEAM? ...COME WITH US
INTERLOK Ltd. at Pila sells 2000 new company shares
Since 1989, INTERLOK Ltd. at Pila is the leading Polish adress for repairs and new constructions and fabrications of steam locomotives. At present, INTERLOK is planning to enlarge the range of it's activities, by:
* rend or purchase of fabrication and storage facilities at PILA STATION, including the locomotive shed and the historical locomotive roundhouse of Prussian OSTBAHN (Eastern Railway)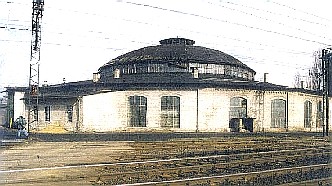 * focussing further activities among others on steam tourism (in cooperation with Polnish/international partners) and on developing the diesel locomotive repair department
* developing the spare parts' section, of ecological innovative concepts (renewable energy)
INTERESTED? Starting from now, we are selling up to 2000 new company shares, each for the value of 100 Zloty (actual rate: about 25 EURO or 28 US Dollars). Whether You prefer to be a symbolic "hobby share holder" or an owner of a substantial shares' package - each railway enthusiast is invited to take part! The final decision as to the acceptance of new share holders will be made by the actual share holders' assembly. Interested persons are asked to apply at our COMPANY'S ADRESS at Pila/Poland by mail, fax or e-mail - giving the own full adress, surname and name, telephone number, e-mail adress, fax number, and the information HOW MANY shares are to be bought.
Share holders may take part in Polish steam specials free of charge, may get lessons in steam technology, and share the delightful feeling they have done something concrete for maintaining steam techonology!
INTERLOK A MEMBER OF FEDECRAIL
During the annual Conference of FEDECRAIL, the European Lead Organization of Museum and Tourism Railways that took place at LEIDEN / The Netherlands, the 27.3.2004, INTERLOK was adopted as an associated member, being the first and so far only representative of POLAND in that important European organisation. The Annual Conference took place on the site of Netherland's Nationalen Narrow Gauge Museum for the gauge of 600 mm, "Valkenburgse Meer".
>>> More about the FEDECRAIL Annual Conference at LEIDEN (Photographs:H.S.)
>>> INTERLOK's presentation at the FEDECRAIL Conference
INTERLOK AT THE 1st WORLD STEAM TOURIST TRAIN CONGRESS IN SWITZERLAND
From October 5th to 8th, 2003, the first World Congress for steam and tourists' trains took place in the picturesque steam town of BRIENZ. 90 attendants from 18 countries of the world, representing all continents, listened to the lectures. Among others, INTERLOK held a lecture on past and current steam locomotive modernizations in Poland.
FULLY REVISED ... Lyd2 - DIESEL LOKOMOTIVES FOR CARRIBIAN TOURISM RAILWAY
Mid October 2002, the first of a lot of 750 mm narrow gauge diesel locomotives - Polish name "Lyd2 01" were shipped from the Polish harbour of Gdynia. They were ordered by "St.Kitts Scenic Railway", a 56 km long tourism railway running around the whole Carribian Island. Operating the trains, the Interlok partner and car manufacturer Jeff HAMILTON constructed in his workshop special NARROW GAUGE DOUBLE DECK CARS. Their upper roof may be pushed up in order to let fresh air in. The locomotives are a Rumanian construction called L30H. They received a main revision by Interlok in Poland. Originally they had a Rumanian Maybach licensed engine of MB 836 B type
with 300 hp. The Polish sugar company at Dobre had sold the locomotives to INTERLOK because they closed the narrow gauge railway line. During their exploitation at the sugar company, the locomotives had been equipped with Polish 150 hp WOLA engines respectively with a Tchech 180hp SKODA engine. Therefore, the Dobre locomotives "01", "CO 01" and "CO 02" had to be remotorized by INTERLOK. The locomotives received fully revised Polish HENSCHEL license engines of 16H12A type. INTERLOK is also able to offer them factory new. In their basic configuration, they perform 300 hp. On the locomotives coming from Dobre, they were tuned to 450 PS.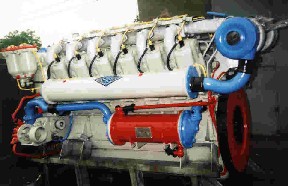 During the main revision, the locomotives were prepared for their usage in the warm Carribian climate. They received a white surface painting according to the wishes of the American partner. The Polish buffers were dismounted as the locomotives were due to run with American style self cuppling central buffers. A special road car transported them to the harbour of Gdynia where the locomotives were fixed on a "Flat Rack" container, wrapped safely againt sea water. Photographs: Hermann Schmidtendorf (1), Marek Kaniewski (2), Grzegorz Stanyslawczyk, Spedition Maersk Gdynia (2)

SHE IS STEAMING AGAIN...

Locomotive No 2 of Delmenhorst-Harpstedt Railway on Nov 4th, 2001 on the customer's site . The general overhaul of the steam boiler was done by INTERLOK Ltd. at Pila, the revision of the locomotive as a whole by INTERLOK shareholder MaLoWa BAHNWERKSTATT Ltd. at Benndorf/Germany. Supervision of boiler works and final passing according to German rules: dipl.-eng. Rudolf Langeloth, Darmstadt/Germany. Passing of the complete locomotive according to German rules: dipl.-eng. Uwe Kempf, Bruchhausen-Vilsen/Germany. Photograph - in front of the locomotive: INTERLOK director Henryk PALCZEWSKI und vize director Marek FURTACZ.
...ALSO PUFFING AGAIN!

Liliput BR 03 steam locomotive of Parkbahn LEIPZIG on Febr 28th,2002 on the workshop site of MaLoWa Ltd. directly before transport loading for main revision at PILA - and during a test ride on the Polish company's site.
SHE ALSO RUNS AGAIN!
MORE ABOUT THE COOPERATION WITH MALOWA BAHNWERKSTATT Ltd.
Among others, the PILA workshop saw a TKh "Ferrum" for a French railway association, as well as TKt48-188 for Swiss VVT society.

MORE ABOUT THE REVISION OF TKt48-188

...OUR ROOTS: The ancient German State's Rail Repair Workshop - REICHSBAHN-AUSBESSERUNGSWERK SCHNEIDEMÜHL / after 1945 Polish ZNTK PILA

WE ARE

the only enterprise in Poland with approvals of both railway and states' supervision authorities for general repairs and new construction and manufacturing of all kinds of steam locomotives, including construction and manufacturing of new steam boilers. We own the APPROVAL of Polish State's Railway >>> PKP CARGO to overhaul all classes of narrow gauge diesel locomotives, and standard gauge diesel locomotives up to 300 hp.

We own a CERTIFICATE of German Technical Supervision Institution "Technischer Überwachungs-Verein" >>> TÜV, work according to European technical standards, such as established by: DV 946/EBO (Germany), PED (European Union), SVTI/ASIT (Switzerland), APAVE (France).

On agreement with our customers, we may realize orders (contract and technical supervision) in cooperation with our German shareholder MaLoWa BAHNWERKSTATT GmbH at Benndorf.

WE OFFER:

general overhaul, repair, modernization, reconstruction, construction and building of new steam locomotives for narrow and standard gauge
EXAMPLES: Almost entirely new fabrication of an O+K narrow gauge steam locomotive, reconstruction of a German BR 42 class locomotive, historical reconstruction of Prussian G.8 class "4981 Mainz" locomotive >>> more information: "OUR STEAM LOCOMOTIVE REPAIRS"
CONSTRUCTION AND MANUFACTURING OF NEW STEAM LOCOMOTIVE BOILERS and repairs, also using traditional riveting technology

TYRING and reeling of wheel sets up to 2100 mm diameter

Photographs: Ryszard Smulkowski(2), HFSchmidtendorf(2)

FOR MORE INFORMATIONS AND OFFERS: www.interlok.info

Contact: office@interlok.info !